Designers and manufactures of pro audio tools and interfaces. Nixer units allow for Dante audio monitoring with quick, intuitive and easy to use interfaces, removing the need for engineers or operators to carry a slow-to-boot and bulky laptop computer for sources selection and monitoring.
All the tools necessary for line-checking, troubleshooting or operator/talent monitoring are readily available in a single device.
A growing range of products allows for units to be deployed to match specific user requirements in exacting live, install and broadcast environments.
With a broad range of capabilities, be it confidence monitoring, network routing, configuration, test signal generation, mixing or PFL trim there is a unit to match all applications.
---
PD Dante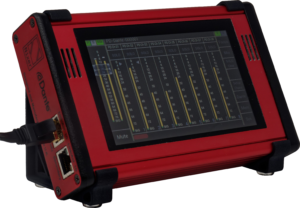 A small portable Dante unit, which allows the monitoring of up to 64 Dante channels at 48kHz (32 channels at 96kHz).
---
---
Please take a look at the videos introducing the key features and menus on the PD Dante monitoring unit. The same features and GUI is also present on the RD Dante.
---
---