12G SDI 4K UHD Audio Monitoring Unit ULM-1264
When you need to monitor 12G-SDI 4K UHD signals the ULM-1264 flagship audio monitoring unit is the optimum choice.  A compact 2RU unit provides precision audio monitoring of any SDI signal format upto 12G-SDI on a high resolution 8″ LCD monitor for clear and clean signal display.
The ULM-1264 also offers Dolby E, Dolby Digital (AC3) and AES/EBU audio signal I/O providing a complete monitoring workstation.  The ULM-1264 accepts 2 x uncompressed 12G-SDI signals and provides real-time signal analysis and audio metering.
Audio monitoring is via high quality internal speakers for optimal confidence monitoring in critical on-air live events.  The ULM-1264 is designed for easy operational use with instant signal feedback provided on a large, clear 8-inch LCD screen making it easy to monitor video signals, audio phase, loudness and signal alarms clearly and precisely.
Premium power amplifiers provide audio monitoring via high quality loudspeakers or high sensitivity headphones.  The shallow 2RU 19" frame ensures the ULM-1264 can be used in the most compact fly-away systems and space conscious OB vehicles.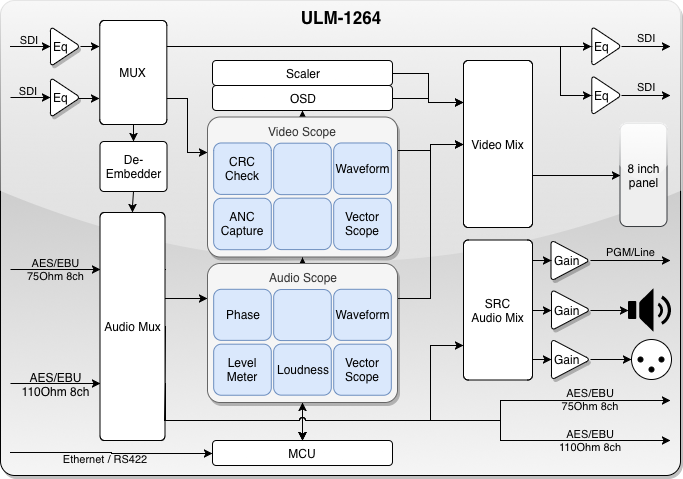 Please contact us for pricing, demos and further information.
12G Master Monitor Low Res

Browse this item in our Store